As part of the UK gambling regulations, bookmakers are required to verify your identity.
It protects both you and the bookmaker against under age gambling, duplicate accounts, identify and credit card fraud (this is very rare, but still well worth preventing!).
For many new customers, you are verified automatically, so you don't need to do the below manual verification. The bookmaker runs automated checks against approved lists, such as the Electoral Roll, to verify your name, address and other key details.
Manual Verification - How It Works
The bookmaker will email you, either after you register or after you make your first deposit, to request that you email them with the below documents to verify the below details:
Identity - A photo of your passport, drivers licence or national ID card
Address - A photo of a recent utility bill or bank statement (usually dated within the past 3 months)
Bank card - A photo of the front (with the middle 8 numbers blanked) and back (with the 3 digits blanked) of your bank card.
This may vary slightly between bookmakers e.g. they may ask for more or less bank card numbers to be blanked out.
Your bookmaker account may be blocked until they have received your documents and approved them. It varies between bookmakers, but this should be completed and your account re-opened within 24 hours.
Below are some tips to help make this is quick and efficient for you to do this and start making a tidy profit from them!
Manual Verification - Top Tips
Here are top tips to make this is efficient for you to do this and start making a tidy profit from them!
Top Tip 1: Use Your Smartphone
If you have a smartphone, then use this to take a photo of your passport, proof of address and bank card. Email these photos to your matched betting email address.
Top Tip 2: Write A Template Verification Email 
Write a template verification email and attached the photos you took, for example:
Hello,
Please see attached for my documents as requested. If you have any issues with the attached, please let me know thanks.
Jon
You can either save this template email to your drafts folder and then just enter the email address of the bookmaker (they will say which email address to send your documents to) or you can check your sent mail and re-sent this email to the bookmaker (just changing the email address).
Top Tip 3: Avoid Covering Corners When Taking Your Identity Photo
When you are taking your photo of your passport, drivers licence or national ID card, you can't cover any of the corners with your hands or fingers. It is a little tricky to take a photo without doing this, but just try to hold the sides of the passport, rather than the corners.
Top Tip 4: How To Cover The Numbers On Your Bank Card
The most basic way to do this is to simply cut out a piece of paper and cover your bank card numbers and then take the photo.
Another way is to using photo editing software. To do this:
Save your bank card photos on to your computer
Open Paint on your computer (it should be easy to find in the start menu if you use Windows)
Open your bank photo by clicking File > Open and find bank card photo.
Click on the rectangle, then Outline and select Solid colour: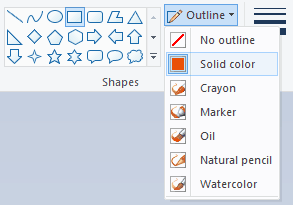 Got Questions?
There are 3 ways to ask for help with Team Profit:



Live Chat - Chat with one of us any time we're online. See the chat module at the bottom right of site.