Learn Matched Betting With The Team
Make £600+ profit risk free with our video guides and welcome offers - everything is free!

Some of the best Matched Betting tools and features, all completely free
  Popular throughout the UK and Ireland
Matched Betting is followed and enjoyed by over 25,000 people across the UK and Ireland - the majority of which had never placed a bet before starting.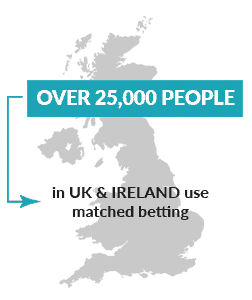 The Profit Is There For You
There are more than 25 online bookmakers in the UK, in total they offer over £800 in free bets to customers. Using Matched Betting we are then able to turn the £800 worth of free bets into around £600 worth of bankable cash profit. All completely risk-free.
 What exactly is Matched Betting?
You bet on one outcome with the bookmaker and then the opposite outcome with a betting exchange. Eliminating the element of risk and yet still unlocking the bookmaker free bets. We then turn the free bets into withdrawable cash, completely risk-free. Simple.
  Matched Betting Is
Not Gambling
Matched betting is nothing to do with gambling, despite what the word 'betting' would suggest. Team Profit teaches you exactly how to make guaranteed profit every time, completely risk-free.
Everything you need to earn £600+ with Team Profit is completely free!
Everything you need to earn £600+ with Team Profit is completely free!
  2,500+ Strong Facebook Support Group
With over 2,500 Team Profit members in our private Facebook group, it really is a priceless resource for anyone starting matched betting. Ask fellow matched betters (includes our team) any questions you have, plus pick up fantastic tips and advice from ongoing discussions.
  Huge Growth 2015 to 2017
Matched Betting isn't new and has actually been around since 2005. However, it's only in the past few years that it has really exploded in popularity, thanks to sites like Team Profit making it much simpler to learn.
  Anyone Can Profit
It doesn't matter if you're a massive sportsbetting fan already or you've never placed a bet before in your life. Our simple tutorial videos will teach you everything you need to know in under 15 minutes! We make it easy for anyone to jump right in and join the most profitable team on the internet.
of users
had never placed a bet

before joining Team Profit.
Source: [Guardian Matched Betting]
  Positive Media Coverage
Many national newspapers and respectable online media outlets have positively reviewed Matched Betting. Agreeing that it is not gambling and will make you money in your spare time. Reviewers include; The Guardian, The Telegraph, Save the Student and Money Saving Expert.
OUR TARGET
is to put £1,500,000 into people's pockets by teaching at least 3,000 people how to profit from online bookmakers in 2017.