How To Lay Accumulator Bets
Accumulators (or "accas") are a single bet that links together two or more individual bets. All of those individual bets must win for the accumulator to win. 
For example, instead of placing 3 separate bets on Chelsea, Liverpool and Tottenham to all win their next match, you place a single accumulator bet which says that all 3 teams will win. 
You choose your stake for the acca, the bookmaker will give you the odds, and then if all 3 teams go on to win, you will win your bet. But, if any of those 3 teams don't win, your acca will be a losing bet. 
Why Place Accumulator Bets?
Bookmakers will sometimes require a qualifying bet or a free bet to be on an accumulator. There are lots of bet and get offers on accas and these can be very profitable when you know how to lay them. 
Bookies may also offer price boosts on an accumulator bet (such as Tottenham and Chelsea both to win boosted from odds of 3.0 to 4.0).
We can also profit by taking advantage of the acca insurance offers. These usually involve placing 5 fold or 6 fold accumulators and if one team loses you will be refunded your back stake as a free bet. We then use this free bet refund to make a profit. 
How Do You Place Accumulator Bets?
Placing your accumulator bet at a bookmaker is very simple. 
From the bookmaker website, start by selecting each bet that you want to include and add each one to your bet slip. 
Once all of the bets are added to your bet slip, you will see the option to place a 'multiple' bet. Here it will state the combined odds of the multiple, and ask you to enter your stake. 
Once you've entered your stake, click to place the bet and you will have placed your accumulator.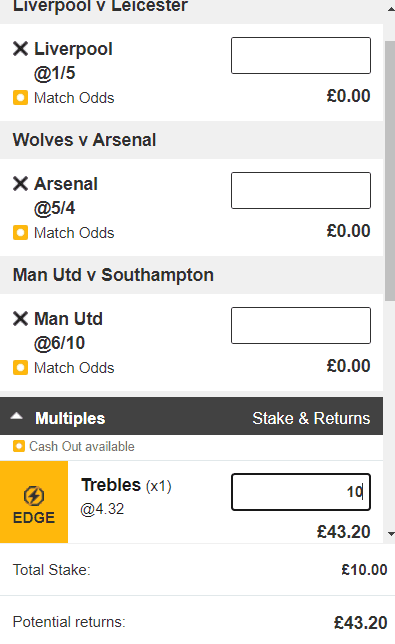 In this example, we have added 3 bets to our accumulator - Liverpool, Arsenal and Man Utd all to win.
On the bet slip, in the multiples section, it gives us the option to place a Treble (an acca with 3 selections). The combined odds are 4.32, and once we enter our stake of £10, it shows us that are potential winnings are £43.20.  
Four Ways To Lay Accumulator Bets
In this guide, we'll discuss the 4 main ways in which you can lay an accumulator bet.
Each method is explained below. Just click on each link to reveal how to use that lay method.
There are three main types of accumulator offer that we can profit from as matched bettors. These are:
Price Boosts - where the bookmaker boosts the odds on a certain accumulator to win. We can often lay these price boosts using the Smarkets Acca Feature or Matchbook Enhanced Specials to make a guaranteed profit.
Bet And Get Offers - there are a number of bookmaker welcome offers and reloads offers that require the qualifying bet and/or the free bet to be used on an accumulator. Whilst our qualifying losses from placing accumulator bets are likely to be higher than when placing single bets, we can still often make a very nice profit from these offers.
Acca Refund Offers - a number of bookmakers run a promotion where you get your stake back as a free bet, if only one leg of an accumulator loses. As shrewd matched bettors, we can use acca refund offers to make long term profits.
Making Ongoing Profits From Accumulator Offers
If you'd like to make ongoing profits from accumulator offers, then we'd recommend checking out Outplayed.
Outplayed features an Acca Catcher tool which compares bookmaker and betting exchange odds to find you the very best accumulator bets.
This is an amazing tool for saving time and increasing the profitability of acca offers.
Outplayed also features a complete list of acca offers, alongside handy tools and calculators to help you profit.