William Hill Mobile Odds Boost
William Hill are offering three price boosts for your account every single day for horse racing. Simply add any horse to your betslip, click the boost button, and lay it off for a profit! Max Stake is £20. Horse Racing Only!
The boosts are technically only available on mobile however we can use the mobile version of William Hill's website here. It's a good idea to save this to your favourites for future use.
Step 1 Find A Match
Choose any horse in any horse race. As long as the regular back odds are close to the lay odds then you can make profit from it.
Once you've found your selection, put it in the bet slip. It should look something like this.
(Please note: The max stake is £20, not £200. And you must choose a horse)
Step 2 Boost Your Bet
Click the boost button and you will see new odds appearing underneath. It'll say that the bet is boosted, and the yellow strip will turn into below as you can see from the example below.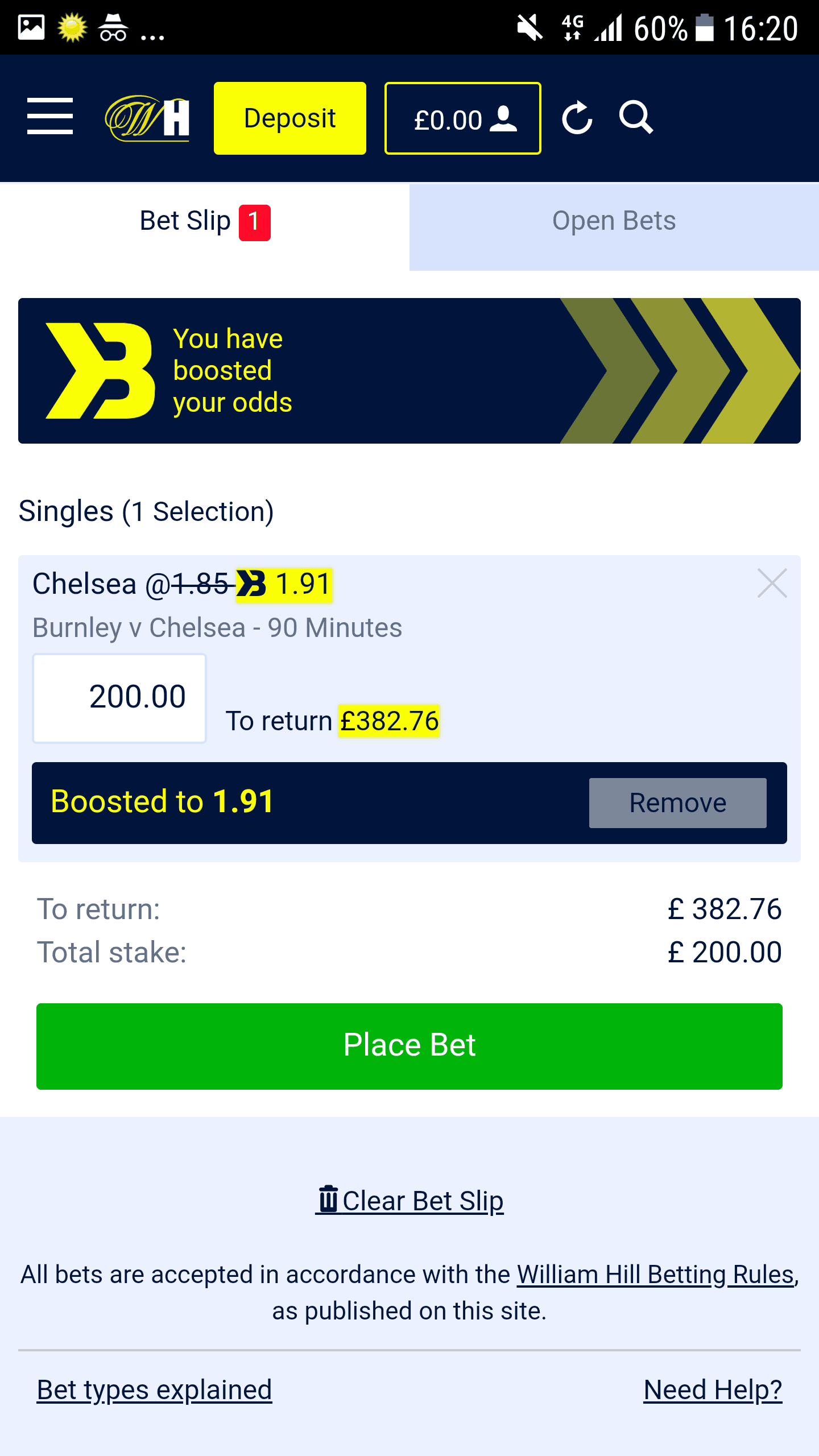 Step 3 Place Your Back And Lay Bets
Bet up to £20 on your on your selection. Make sure the boost is active and the new odds and returns are displaying before accepting your bet. It can be quite confusing as the boost pops up in yellow before you place it, so some people will double tap it and assume its active as they can see a yellow strip. If it's active it will turn blue. So Blue = good, Yellow = bad.
By placing your back and lay bets you will have an instant profit, just like with other price boosts. The great thing about this one is that you have plenty of options on what you place your boost on - you're not just restricted to one market.
You should definitely combine these boosts with other offers. If you're making say £2 from a boost, you're basically being paid £2 to attempt an offer and possibly make more!

Use the desktop website with the mobile link - it's quicker

Ladbrokes tend to offer similar boosts with £40-£100 max stake too but the odds aren't boosted as much. It's still worth checking on high profile games!
Got Questions?
There are 3 ways to ask for help with Team Profit:



Live Chat - Chat with one of us any time we're online. See the chat module at the bottom right of site.